Murals & Blanks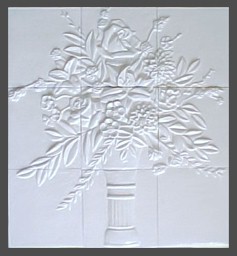 M2000 Bouquet M2001 Tuscan M2002 Fruits of
Sunflower Bouquet Summer


M2003 Sea Life M2004 Rooster

Murals are available in Low Fire clay only.
Click here for on clay body Specifications & information.
Custom made to order, allow 8-10 weeks
Murals

Size
Style & Price
Color (for one color tiles only)
18"x19"
(9) 6"x6.33"


Click here to view color
palette.
21"x18"
(9) 6"x7"
18"x18"
(9) 6"x6"
18"x21"
(9) 6"x7"
18"x18"
(4) 6"x6"

Blanks


Handmade & Machine made Blanks are available in Low & Medium Fire clays.
Click here for on clay body Specifications & information.

Handmade Low Fire Blank Pricing
(Hand glazed w/Low Fire Glaze, grid back, universal edges)

Description
SKU#
Price
Color
3"x3"x1/4"
B3000x3
$3.25ea.
Click here to view
Low Fire Color Palette.
4"x4"x1/4"
B3000
$3.85ea.
6"x6"x1/4"
B3000x6

$4.90ea.
3"x6"x1/4"
B3000x3/6

$4.35ea
Price does not include packing, shipping &/or pallet fee.
All prices subject to change w/o notice.

Machine-made Low Fire Blank Pricing
(Hand glazed w/Low Fire Glaze, grooved back, spacers)

Description
SKU#
Price
Color
4"x4"x1/4"
B3000M
$2.85ea.
Click here to view
Low Fire Color Palette.
6"x6"x1/4"
B3000x6M
$3.99ea.
3"x6"x3/16"
B3000x3/6M
$2.60ea.

6"x8"x3/16"
(5-3/4"x7-3/4"x3/16")
B3000x6/8M
$3.70ea

Price does not include packing, shipping &/or pallet fee.
All prices subject to change w/o notice.


Volume discounts available
Machine-made Medium Fire
Blank Pricing
(Hand glazed w/Medium Fire Glaze, grooved back, universal edge)

Description
SKU#
Price
Color
4"x4"x3/16"
B3000M
$2.60ea.
Click here to view
Medium Fire Color Palette.
6"x6"x3/16"
B3000x6M
$3.40ea.
3"x6"x3/16"
B3000x3/6M
$2.85ea.

6"x8"x3/16"
(5-3/4"x7-3/4"x3/16")
B3000x6/8M
$3.95ea

Price does not include packing, shipping &/or pallet fee.
All prices subject to change w/o notice.


Volume discounts available